COURSES / MASTERCLASSES / WORKSHOPS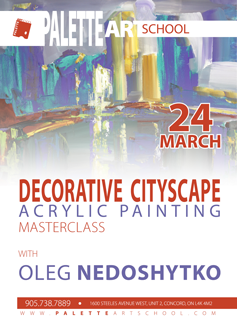 March 24, 2018Decorative Landscape.Acrylic Painting Masterclass with Oleg Nedoshytko.
Dates: March 24, 2018.
Time: 3:30pm to 7:30pm (4hrs).
Skill Level: Artists of all skill levels are welcome.
This masterclass is designed to be beneficial to students of all levels of skill and experience. Oleg Nedoshytko was a professor of a prestigious Art Academy in Odessa, and has years of experience working in a multitude of different styles and mediums.
During this masterclass you will develop your ability to paint freely in a decorative
manner, see shapes more clearly, and develop more satisfying compositions. Also, you will enhance your ability for a looser, freer approach to painting in an abstract style.
We provide students with any acrylic paints required for the course.
*Students are required to bring:
Stretched canvas 24"x30"
Brushes for acrylic and palette knives
Palettes
Note: All necessary supplies are available for purchase from our art supply store ( on site )
Cost: $ 110.00 (plus tax)
Spots available: 4 of 10