COURSES / MASTERCLASSES / WORKSHOPS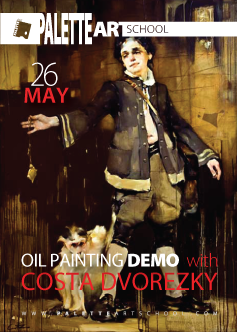 May 26, 2018.Victorian-Themed Figurative DEMO with Costa Dvorezky.
Alla-Prima Oil-Painting with Costa Dvorezky.
Date & Time:
May 26, 2018 (3hrs):
3:00 pm – 6:00 pm
Have you ever wondered how paintings are made?

Well, here's your chance to bear witness to the magic that is Art.
Join us in our cozy art studio as we treat you to some wine and cheese.
Meet new people who are just as enthusiastic as you are…
Bring a date or enjoy it solo.
Come and indulge in the Art process, as Canada's famous Costa Dvorezky turns an empty canvas into something incredible (and no, you cannot take it home).
Watch him move layers of wet paint into the image of a beautiful model right before your eyes.
A three-hour demonstration will be given, where Costa will carefully explore the classic method of Alla-Prima with an emphasis on modeling and finish. The model will be in Victorian-Themed dress, and the focus of the painting will be on the figure, as well as the fabric.

Student's can watch the painting form and hear the thought process which is involved to create a figurative work of Art, quickly and with precision.
Cost: $ 135.00 (plus tax)
Spots available: 15 of 15