COURSES / MASTERCLASSES / WORKSHOPS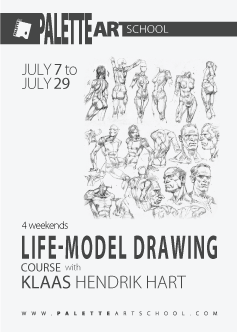 July 7 to July 29, 2018 (8 sessions).
Life-Model Drawing Course with Klaas Hart
Dates and time:
Instructed sessions - July 7, 14, 21, 28 (on Saturdays from 3:00 pm to 7:00 pm).
Uninstructed sessions - July 8, 15, 22, 29 (on Sundays from 11:00 am to 3:00 pm).
Each session is 4 hours long

Figure drawing is the cornerstone of traditional art training and the human body offers every challenge any artist might come across—structure, proportion, volume and line.
In this course, teacher Klaas Hart will be working with students to tackle all the various aspects involved when capturing the human figure. Both gestural and extended life drawing techniques will be covered. Students will work with a variety of drawing tools, and will be engaged in a complete analysis and study of the human body.
Some drawing experience is recommended for this course, but it is structured in a step by step process so beginners can build on their technique and ability as well. It is also suitable for experienced students who want to concentrate on figure drawing with the assistance of a teacher who has many years of experience teaching at the college level. Saturdays will be 4 hour sessions with the instructor. Sundays with also be 4 hour sessions, but will be uninstructed. Each Saturday, Klaas will instruct students what area of focus they will need to work on for Sundays uninstructed sessions.
Cost: $ 540.00 (plus tax)