COURSES / MASTERCLASSES / WORKSHOPS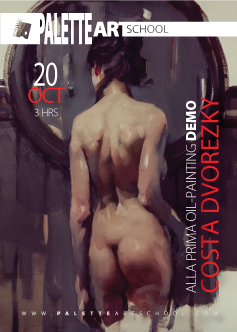 Alla Prima Oil-Painting DEMO with Costa Dvorezky.
ALLA-PRIMA MASTERCLASS & DEMO WITH COSTA DVOREZKY

Oct 20, 2018 (7hrs): 3:00 pm – 6:00 pm


In this Masterclass we will carefully explore the classic method of Alla-Prima with an emphasis on modeling and finish.
A three-hour demonstration will be given, where student's can watch the painting process, and hear the thought process which is involved to create a figurative work of art, quickly and with precision.
Cost: $ 110.00 (plus tax)