COURSES / MASTER CLASSES / WORKSHOPS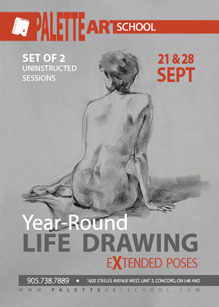 Set of 2 Uninstructed Life Drawing Sessions
YEAR-ROUND EVENTS
SET OF 2 Uninstructed sessions.
Extended Pose Life Drawing & Painting.
Dates: September 21 & 28, 2017.
Time: 6:30pm to 9:30pm.
Skill Level: Artists of all skill levels are welcome.
This is a 2-day event, totaling 6 hours of in-studio work with breaks every 25 minutes. These sessions feature one prolonged pose over the course of both sessions, allowing for extended studies and exploration.
Note: Materials are not provided, but all necessary supplies are available for purchase from our in-school art supply store.
Cost: $ 50.00 (plus tax)
Note: These are not drop-in sessions.
Prior registration is required.
Cost: $ 50.00 (plus tax)
Spots available: 12 of 12