Learn how to lay down a graded watercolour wash from yellow light to deep, by gradually adding touches of Alizarin Crimson with a syringe and a clear glass.
"White Nights" Watercolours are Available at Palette Art Supply Store.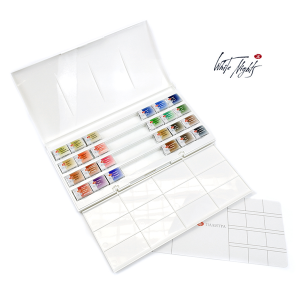 24 full pans, 2.5 cm3 each
The case is made of lightweight plastic with a palette and brush compartment for easy use
This set includes:
Cadmium Lemon, Cadmium Yellow Medium, Yellow Ochre / Golden, Titian Red / Orange Lake, Cadmium Red Light, Red Ochre / Shakhnazarskaya Red, English Red, Carmine, Madder Lake Red Light, Violet, Ultramarine, Blue / Bright Blue, Cobalt Blue, Indigo, Yellow-Green, Emerald Green / Green Original, Green, Raw Sienna, Umber, Burnt Umber, Sepia, Neutral Black.
Pigment used and light-fastness are shown on the labels.
"White Nights" are professional watercolours of the highest quality that combine old masters' traditions and modern production techniques. The paints are produced of the finely ground pigments and binders adding Gum Arabic which is recognized as the best natural adhesive for professional watercolours. The colours have high intensity colour hues, which do not tone down even when much water is added. This is provided by the high concentration and fine grit of a pigment. The paints have perfect mixing, smearing and spreading qualities. The palette consists mostly of mono pigment and lightfastcolours.
Available in sets of 12, 16, 24, 36, 48 colours in 2,5 ml pans, 12 colours in 10 ml tubes and in assortment of 64 colours in 2,5 ml pans.