COURSES / MASTERCLASSES / WORKSHOPS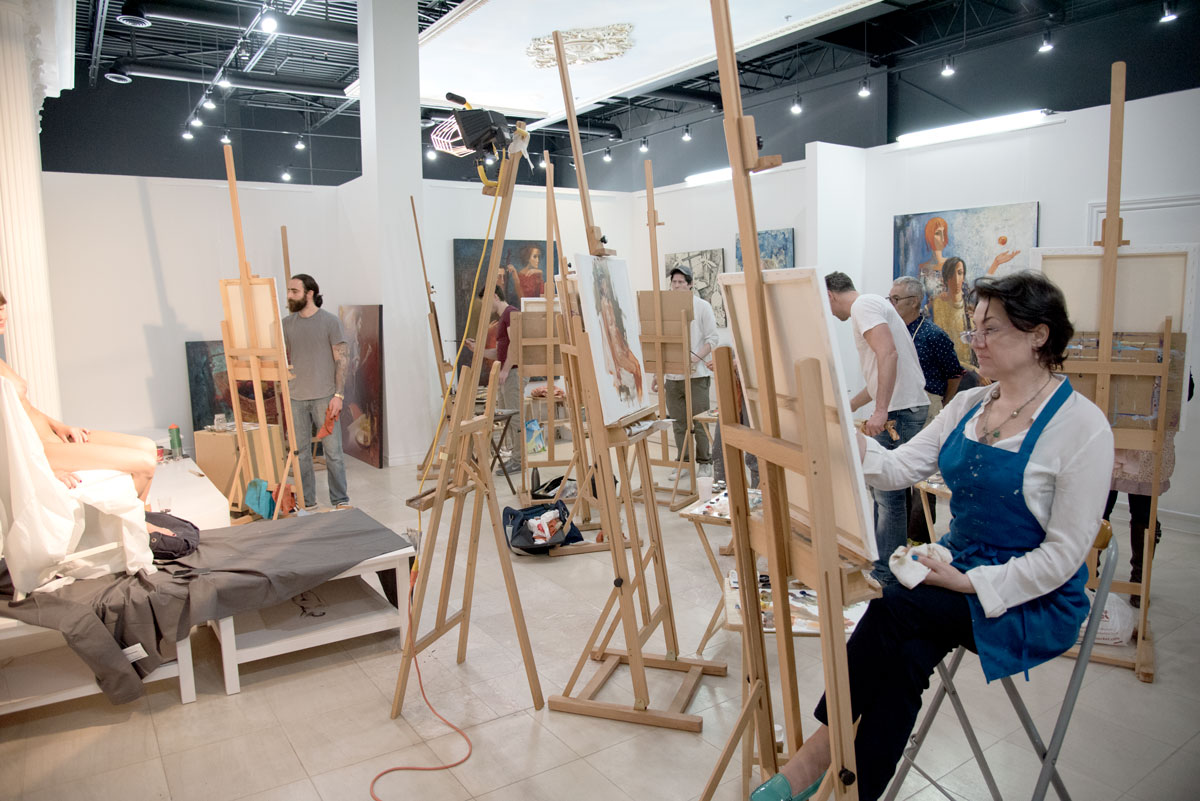 Masterclasses are most beneficial for the person who has previous experience in painting, and are at an intermediate or advanced level of artistic ability. Instructors are experts in the subject areas which they teach, and students will be learning content at a high-level. It is the instructor's qualifications and vast experience in their respective areas which is the main factor that sets these classes apart, and that ultimately will be the main benefit these types of classes offer.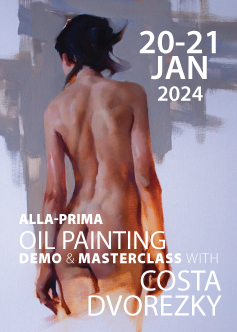 Alla Prima Oil Painting
DEMO & MASTERCLASS
with COSTA DVOREZKY
ALLA PRIMA OIL PAINTING MASTERCLASS (incl. DEMO) WITH COSTA DVOREZKY

January 20, 2024 (5hrs): 5:00 pm – 10:00 pm (Including 3-hour Demo)
January 21, 2024 (8hrs): 10:30 am – 6:30 pm (Including 1-hour Break)
In this Masterclass we will carefully explore the classic method of Alla-Prima with an emphasis on modeling and finish.
Day 1 – A three-hour demonstration will be given, where students can watch the painting process, and hear the thought process which is involved to create a figurative work of art, quickly and with precision.
Day 1 – The latter portion of the first day will be devoted to creating an underpainting in one colour, focusing on composition, tonal-execution, anatomy and technique.
Day 2 - Will focus on an Alla-Prima painting approach which will allow students to compose a figurative painting . Majority of our focus will be placed around values in the painting. Using the set with a model, we will try to recognize and interpret the value relations along with the temperature aspect. With alla-prima approach we will try to accomplish the unfinished and loose stage of the painting in to a finished statement.
REGISTRATION FEE: $480 PLUS TAX
EARLY BIRD REGISTRATION FEE: $440 PLUS TAX (AVAILABLE UNTIL NOVEMBER 30TH, 2023)
learn more ...
Cost: $ 440.00 (plus tax)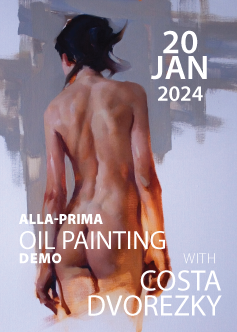 Alla Prima Oil Painting
DEMO
with COSTA DVOREZKY
ALLA PRIMA OIL PAINTING DEMO WITH COSTA DVOREZKY

January 20, 2024 (3hrs): 5:00 pm – 8:00 pm
Have you ever wondered how paintings are made?

Well, here's your chance to bear witness to the magic that is Art.
Join us in our cozy art studio as we treat you to some wine and cheese.
Meet new people who are just enthusiastic as you are.
Bring a date or enjoy it solo.
Come indulge in the art process, as Canada's famous Costa Dvorezky turns empty canvas into something incredible (and no, you cannot take it home).
Watch him move layers of wet paint into the image of a beautiful model right before your eyes.
learn more ...
Cost: $ 150.00 (plus tax)