So you're interested in art...
Our Ongoing Classes are general arts classes that cover the foundations of painting and drawing. We pride ourselves on being more academically oriented than most other art schools through our focus on fundamental knowledge concerning subjects like structural drawing and colour theory. Students that want an in-depth understanding of art will feel right at home in classes full of like-minded individuals led by our skilled instructors.
Art for all ages and skill levels.
Ongoing Classes are for all age groups (5 and up). Whether you're a seasoned artist or just starting off, we have a spot for you. Classes are available to kids, teens and adults and are sorted by age instead of skill level. Mixed level classes offer students a medley of different perspectives and styles and help encourage dialogue between the newly-enrolled and our long-time students. We're all here to learn and sometimes we can learn valuable things our peers too!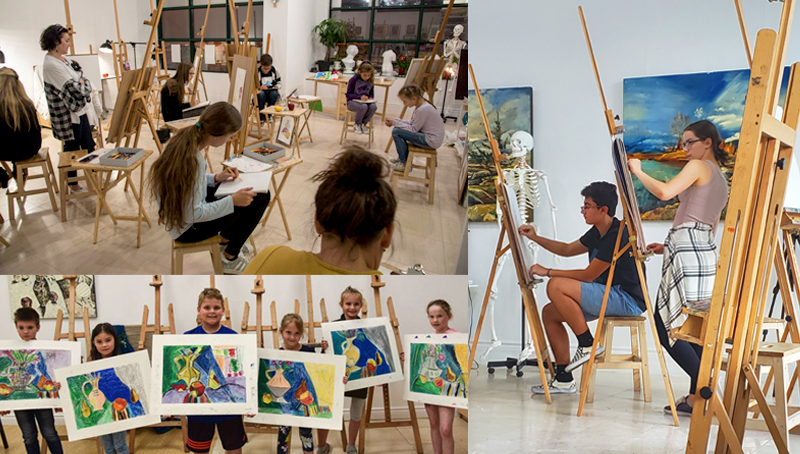 Tailored to your needs.
The Ongoing Classes follow a "no-set-curriculum" format to be properly tailored to our students and their unique and changing needs. We focus on potential oversights or holes in our students' foundations and design assignments to help hone everyone's skills. We enable each person to practice the things they're weakest at and overcome the things they find most challenging. Of course, we realize that art is more than a series of trials and tribulations. Those that come to us with a specific goal in mind (such as trying oil painting or picking up portraiture) are encouraged to let instructors know, so that we may guide them on their learning journey.
Pencils, paper, paints and palettes.
All necessary materials are covered by the school tuition for your convenience so you need only bring yourself to class! Below is a complete list of all materials that our school covers:
Pencils, charcoal, soft pastel, oil pastel
Ink, watercolour paint, acrylic paint
Paint brushes, palette knives
Newsprint, watercolour paper, canvases (16"x 20" max)
Should you find that you prefer to use your own brushes and paints, you are free to bring in your own supplies. Want to learn oil painting or work on a huge canvas? No problem. Though these supplies are not covered by tuition, you are free to bring your own materials and our faculty will teach you how to use them.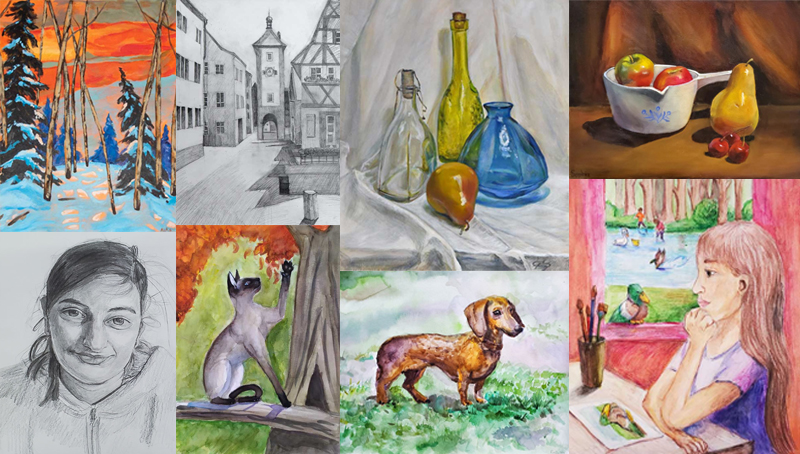 Bonus benefits!
All active Palette Art School students will enjoy the following added perks:
An online gallery to feature your artwork on our site
15% discount off all items in our on-site art supply store
Looking to enroll?
We'd love to have you. Take your first step to enrollment by familiarizing yourself with our school terms and register using the class schedule.
Hope to see you here!