COURSES / MASTERCLASSES / WORKSHOPS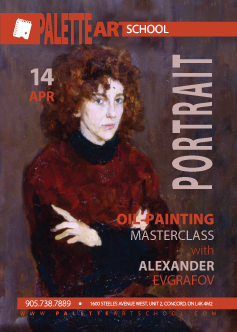 April 14, 2018.
Portraiture in Oil Paint.
Masterclass with Alexander Evgrafov.
DATE: April 14, 2018
TIME: 3:00PM - 8:00PM
In this educational masterclass, which will focus on portraiture in oil paint, students will learn about the human anatomy, proportion, line and value by working from quick studies and longer poses. This will help to enhance and develop your ability to capture the model's features and personality.

By the end of this masterclass students will gain an understanding of:

· Visual language of portraiture
· Light and Shadow
· Planes to capture light and shadows in a portrait
· Visualizing the shapes
· Value/Tonal importance in composition
· Different materials / tools used for realism approach

In the allotted time, student's will discover a special approach to define the features of the Life-Model.
---
Note: Materials are not provided, but all necessary supplies are available for purchase from our art supply store ( on site )
*Students are required to bring-
Stretched canvas: no larger than 30".
Brushes for oil: sizes #20-10-6-4,
Odorless solvent: (for oil) with the jar 100-200 ml for washing brushes,
Oil paints: titanium white, cadmium yellow medium, yellow ochre, burned sienna, cadmium red medium, permanent rose, ultramarine, phthalo blue.
Cost: $ 210.00 (plus tax)
Spots available: 7 of 9