COURSES / MASTERCLASSES / WORKSHOPS
Masterclasses are most beneficial for the person who has previous experience in painting, and are at an intermediate or advanced level of artistic ability. Instructors are experts in the subject areas which they teach, and students will be learning content at a high-level. It is the instructor's qualifications and vast experience in their respective areas which is the main factor that sets these classes apart, and that ultimately will be the main benefit these types of classes offer.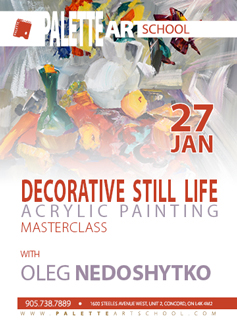 Jan 27, 2018Decorative Still Life.Acrylic Painting Masterclass with Oleg Nedoshytko.
Dates: Jan 27, 2018.
Time: 5:30pm to 9:30pm (4hrs).
Skill Level: Artists of all skill levels are welcome.
This masterclass is designed to be beneficial to students of all levels of skill and experience. Oleg Nedoshytko was a professor of a prestigious Art Academy in Odessa, and has years of experience working in a multitude of different styles and mediums.
During this masterclass you will develop your ability to paint freely in abstract forms, see shapes more clearly, and develop more satisfying compositions. Also, you will enhance your ability for a looser, freer approach to painting in an abstract style.
Cost: $ 95.00 (plus tax)
Spots available: 6 of 10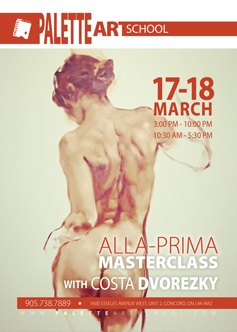 March 17 & 18, 2018Alla Prima Masterclass with Costa Dvorezky.
Weekend Masterclass - Figure Painting with Oil.

Dates & Time:
March 17, 2018 from 3:00 pm - 10:00 pm (7 hours),
March 18, 2018 from 10:30 am - 5:30 pm (7 hours).
Age Group: 18 and over.
Cost: $ 420.00 (plus tax)
Spots available: 7 of 8