COURSES / MASTER CLASSES / WORKSHOPS
Courses are specified areas of study (eg. Live model drawing course, Photography course…) over a set time span, usually 1-3 months, throughout which our instructors will work with students individually, to improve their artistic abilities and to gain further knowledge in the specified areas. Students are benefitting from a more focused area of study and can utilize one on one time with the instructor.

Courses are for teenagers and adults.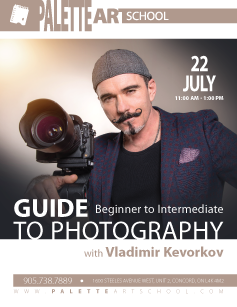 Guide to Photography with Vladimir Kevorkov (Beginner to Intermediate)
Start Date: July 22, 2017
Class Schedule: July 22, 29 and August 5, 12.
Time: 11 am to 1 pm (4 classes x 2 hours).
*The Early Bird price is CA$280 plus tax.
Two weeks before the course begins, the regular price of CA$335 plus tax will take effect.
Cost: $ 280.00 (plus tax)
Spots available: 20 of 20