COURSES / MASTERCLASSES / WORKSHOPS
Workshops deal with a specific area of focus and are beneficial for students of all ages, and all artistic capabilities. These workshops give students the chance to interact with our highly skilled instructors and address any questions or artistic concerns they may have. Workshops tend to be interactive and make for a laid back, stress-free environment. They are entertaining and artistically beneficial.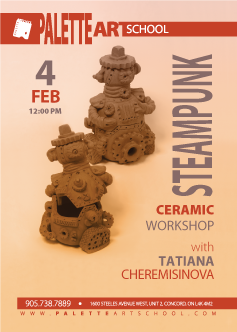 February 4, 2018Steampunk Themed Ceramic Workshop
This Steampunk themed workshop is designed for all levels of skill.
During this workshop you will be fully engaged in the ceramic process, and it will help to further your knowledge and abilities while working with this creative medium.
Materials are provided.
Cost: $ 65.00 (plus tax)
Note: This is not a drop-in session.
Prior registration is required.
Cost: $ 65.00 (plus tax)
Spots available: 4 of 8