COURSES / MASTERCLASSES / WORKSHOPS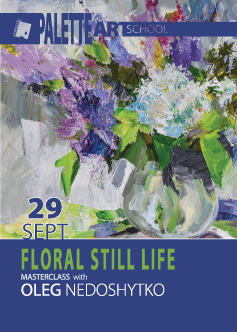 Floral Still Life Masterclass with Oleg Nedoshytko
Date: Sept 29, 2018
Time: 4:00 pm to 8:00 pm (4 hours)
This 4-hour masterclass is designed to be beneficial for students of all levels of skill and experience. Our instructor, Oleg Nedoshytko, will guide students through his working process step by step. Focus will be placed on a mix of brush application, and palette knife technique. An understanding of the palette knife, and the ability to maximize its potential is a priceless tool to any artist. It will greatly enhance artists capabilities when creating an artwork and will open a new world of possibilities.

When you balance your brushwork with palette knife application, you'll have a painting which is rich with harmony, colour and texture. This Masterclass will help all students to understand and achieve that balance.
! We provide students with acrylic paint required for the course !
!!! Canvases, brushes and tools are not supplied, but are available for purchase from our in-house store !!!
$110.00 + tax
*PRIOR REGISTRATION IS REQUIRED.
Cost: $ 110.00 (plus tax)