COURSES / MASTERCLASSES / WORKSHOPS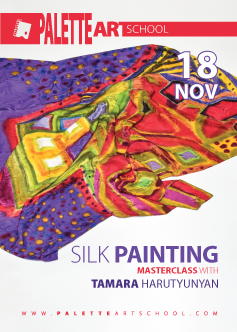 Silk Painting Masterclass with Tamara Harutyunyan.
Dates: November 18, 2018.
Time: 12:00 pm to 3:30 pm.
Skill Level: Artists of all skill levels are welcome.

This masterclass is designed to be beneficial to students of all levels of skill and experience. The instructor will have some basic designs that can be copied.
During this masterclass, you will learn how to paint on silk, unique design techniques, resist applications, and how to finish your silk.
We will provide students with all the materials and tools they will need.
The fee for this masterclass is $65.00, and the duration is 3 hours long.
Important note: Silk dyes are permanent. Dress accordingly.
(Our painting aprons can be borrowed upon request)