COURSES / MASTERCLASSES / WORKSHOPS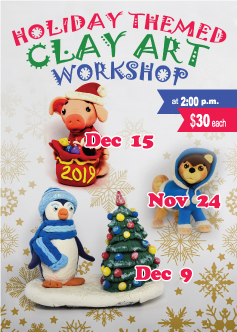 Holiday Themed Clay Art Workshop
Dates: Dec 15, 2018.
Time: 12:00 pm to 2:00 pm.
For KIDS of ages 6-12
This is a 1-day Clay-Art event.
During the course of the hour and a half Holiday Themed classes, your child will be fully engaged in a fun, creative, and fulfilling experience that will be memorable for all children involved.
Note: All materials will be provided
Cost: $ 30.00 (plus tax) per event
Note: These are not drop-in events.
Prior registration is required.