COURSES / MASTERCLASSES / WORKSHOPS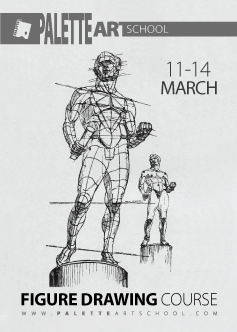 Figure Drawing Course for Beginners (Instructed)
Dates: March 11, 12, 13, 14, 2019.
Time: 1:00pm to 5:00pm.
Skill Level: Beginners.
This is a 4-day event, totalling 16 hours of in-studio work with breaks every 25 minutes. Sessions feature gesture drawing at the beginning of each session for warmup and 1 extended pose for students to explore over the course of the 4 sessions. The sessions are led by an instructor who will carefully guide each student through the process of life drawing via both demos and 1 on 1 advice.
List of Materials*
Newsprint pad (18" x24")
Heavy drawing paper (18" x24") x2 (1 for each ext. pose.)
Conte (or compressed charcoal),
Drawing pencils: HB, 2B,
Paper stumps and/or tortillions for blending charcoal,
Kneadable eraser.
*Materials are not provided, but all necessary supplies are available for purchase from our in-school art supply store.
Cost: $ 320.00 (plus tax)
Note: These are not drop-in sessions.
Prior registration is required.
Cost: $ 320.00 (plus tax)