COURSES / MASTERCLASSES / WORKSHOPS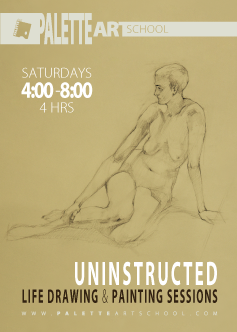 Uninstructed Life Drawing or Painting Sessions (4 hours).
Year-round uninstructed life drawing or painting sessions.
Drop-in or sign up to secure your spot.

Dates: April 6, 2019.
Time: 4:00pm to 8:00pm.
Duration: 4 hours session

Skill Level: Artists of all skill levels are welcome
This session features short and prolonged poses throughout the duration of the session, allowing for gesture drawing and extended study and exploration.
We do not offer instruction during this session.
Save $5.00 by registering in advance. Prior registration by phone, online, or at our location $30.00 plus tax.
Drop in sessions are $35.00 plus tax.

Attend 4 sessions and receive the 5th session FREE.
Note: Materials are not provided, but all necessary supplies are available for purchase from our in-school art supply store.