COURSES / MASTERCLASSES / WORKSHOPS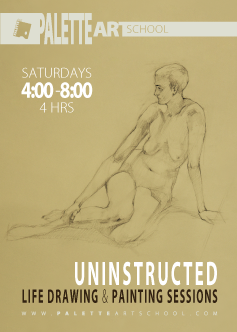 Uninstructed Life Drawing or Painting Sessions (4 hours).
Year-Round Uninstructed Life Drawing or Painting Sessions.
Date: June 15, 2019.
Time: 4:00pm to 8:00pm.
Duration: 4 hours.
Skill Level: Artists of all skill levels are welcome
This session features a few short poses for warm-up and one 3-hour long pose throughout the duration of the session, allowing for gesture drawing and extended study and exploration.
We do not offer instruction during this session.
Save $5.00 by registering in advance. Prior registration by phone, online, or at our location $30.00 plus tax.
Drop in sessions are $35.00 plus tax.

Attend 4 sessions and receive the 5th session FREE.
Note: Materials are not provided, but all necessary supplies are available for purchase from our in-school art supply store.