COURSES / MASTERCLASSES / WORKSHOPS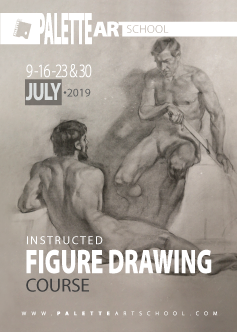 Figure Drawing Course.
Instructed by Alexandr Kachkin.
July 9, 16, 23 & 30, 2019
4 sessions 3 hours long each.
6:30 pm - 9:30 pm

Instructed by Alexandr Kachkin.
WHAT YOU WILL LEARN
In this course you will learn to improve your figure drawing skills. We cover everything from drawing basics, such as proportions and composition, to basic anatomy.
We will superficially cover the skeletal and muscular system and go into detail on boney landmarks to educate students on all the bumps and grooves and indentations on the human body.
This course features a live model so that students may learn to interpret 3D subjects more effectively on a 2-dimensional plane.
The focuses of this course are gesture drawing and longer studies so as to allow students to practice both working quickly and creating finished full-detail final products.
MATERIALS TO BRING
Newsprint pads (18" x 24")
Conte pencils or sticks
Bulldog clips (optional)
Drawing paper pad, 70lbs or heavier (18" x 24")
Drawing pencils (H, HB, 2B)
Erasers (regular and kneaded)
All required art supplies are available for purchase in our onsite art supply store for your convenience. 15% discount to be offered to all course attendees.
Cost: $ 260.00 (plus tax)