COURSES / MASTERCLASSES / WORKSHOPS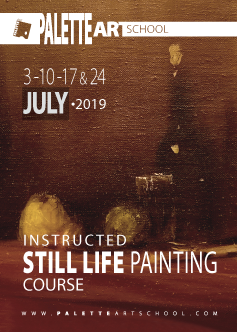 Still Life Oil Painting Course
Instructed by Alexandr Kachkin.
July 3, 10, 17 & 24, 2019
4 sessions 3 hours long each.
6:30 pm - 9:30 pm
Instructed by Alexandr Kachkin.
WHAT YOU WILL LEARN
Familiarize yourself with oils while exploring the subject of still life.
In this course, you will learn composition, construction and colour relationships as you're taught the process of creating gorgeous pieces by a master of the craft.
Students will work from life to practice interpreting 3D forms on a 2-dimensional plane.
MATERIALS TO BRING
Stretched canvas (20" x 24")
Oil paints (few colors)
Brush dipper
Odorless solvent (18" x 24" or larger)
Palette
Brushes
Rag
All required art supplies are available for purchase in our onsite art supply store for your convenience. 15% discount to be offered to all course attendees.
Cost: $ 220.00 (plus tax)