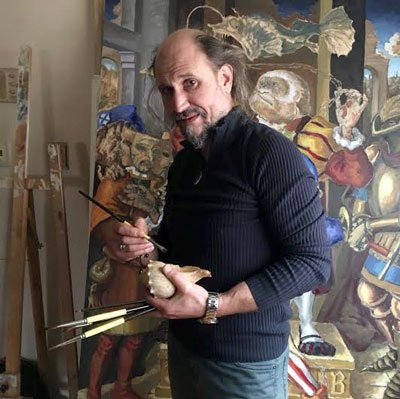 Alexander Donskoi was born in 1961 Far East of Russia,Vladivostok in hereditary family of Orloff's duke. This family represents very interesting and famous people like: one great-grandfathers of Alexander, his all life dedicated to E.A. Nobel, one grandfather was a friend of famous Charlie Chaplin (actor), and another grandfather was one of the best whaler on the Pacific Ocean, also he was a friend to world-famous traveler around the world Mr.Thor Heyerdahl(archaeologist). Alexander's grandmother (Elena) was a very unusual, extraordinary woman; she was able to spick seven languages and writes the exceptional poems. Alexander's mother is a medical doctor with more than thirty years of experience, very intelligent, intellectual person who dedicate her life to help people and take care of her own children.
Unique environment for Far East of Russia, combination of European culture and eastern philosophy, had a great influence on establishing Alexander Donskoi as an Artist. Japanese Sea with hundreds pictorial islands, Taiga with extraordinary floras and faunas, wild typhoons of Pacific Ocean, unusual bright colors similar with tropical countries all of it reflected on his life style and mystical artwork. In the same time in Alexander's childhood, indelible strong imprinted in his mind was meeting with sister of Famous Russian artist-avant-gardist Mr. Filonoff (St.Petersburg),after this event, was born the new artist-Alexander Donskoi. Filonov's sister was very interested to meet a little clever boy with huge eyes, who with trembling was examine paintings of classic artist,then she offer to the boy as a present take any of the paintings he seen.
Incredible passion for El Greco, Rubens,Vincent Van Gogh, Salvador Dali, Michael Fuchs, Marke, Filonoff, Rubens, Repine and etc; admiring architecture of Gaudi, old Russian architecture, all of it,was supporting for Alexander's become the international knowing artist.
In a school ,from the first great,he was study chine's language,then continues his education in College of Art (finished with gold medal),next was Far East University of Art.
Ten years of his life he spend in China,Tibet (study martial art"Kung Fu"),during this time he became three times champion of China, easy working with a sword and sport bow. At the same time in Chinese monastery, he was able to study pharmacy, medicine, history, astronomy, occult sciences; extending knowledge of ancient-Chinese language, Sanskrit, he was reading lectures for students in several scientists centers across China and Russia. Traveling through Tian Shan, Gobi desert, Himalayas, every minute of his life he dedicates for his paintings, writing the poems and scientific books (several publishing in China by Alexander Donskoi about martial art). He is well knows in China as a Lun Tuan and on Tibetan language teacher Vajradharma.
Next, Alexander begin to discover world of Europe (Baltic countries like Latvia, Estonia; ancients city's in Russia, Ukraine, Hungaria) all of this push him to continues deep analysis and study of culture, philosophy, legends, folklore of this countries as well as developing new artworks.
In 1991 Mr. Donskoi made his homeland Canada, traveled through this beautiful county, the different cultures of Canadians. Discovered the United States of America, Mexico, meet and made a lots new friends all over the world. His beautiful paintings was highly recognized in Japan, Germany, Spain, USA, Canada and ect. Hundreds expositions with leading surrealistic artists like Giger, Fuks; friendship with very talented and well knowing art-critic Mr.I.Kuchinsky.